Social Media Marketing: Building Your Brand Online
If you are thinking about social media marketing that means you are focusing on building your brand online. If your focus is on building your brand then let us talk about social media and how can you build your branding all around social media platforms.
In this post I am going to share with you 7 important tips which can help you building your brand quickly in social media.
Social media has become an integral part of our daily lives, and for businesses, it provides an unique opportunity to connect with customers and reach new audiences. If done correctly, social media marketing can be a highly effective way to build your brand and drive engagement.
But, with so many social media platforms to choose from, it can be difficult to know where to start. In this post, we'll provide tips for developing a successful social media marketing strategy that will help you reach your business goals.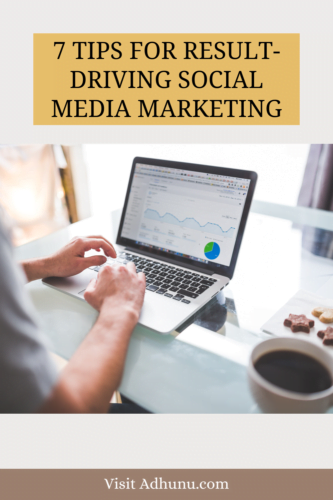 Seven Tips that have been covered here are as follows:
Defining Target Audience 
Choosing the Right Platforms 
Developing a Content Strategy 
Engaging with Audience 
Utilizing Paid Advertising 
Measuring the Results 
Staying Up-to-date with latest Trends
Now, let's check all of these points in more details.
1. Define Your Target Audience
The first step in any social media marketing plan is to determine who your target audience is. This will help you to choose the right platforms, create content that resonates with your audience, and measure the success of your campaigns. Ask yourself: who are your customers and what are their interests? Are they more active on Instagram or Facebook? Answering these questions will help you make informed decisions about where to focus your efforts.
2. Choose the Right Platforms
Once you have a clear understanding of your target audience, you can begin to select the social media platforms where they are most active. It's important to choose platforms that align with your business goals and that your target audience uses. For example, if you're a B2B company, LinkedIn may be a better choice than Instagram.
3. Develop a Content Strategy
Your social media content should align with your business goals and resonate with your target audience. Plan and create content that educates, entertains, or inspires your audience. Utilize visual content such as images and videos to grab attention and stand out in the feed. Consistency is key, so develop a posting schedule and stick to it.
4. Engage with Your Audience
Social media provides an opportunity to engage with your audience in real-time. Respond to comments, messages, and reviews to build relationships and increase engagement. Encourage your audience to share their thoughts and opinions, and take the time to listen to what they have to say.
You can also use online tools to increase engage with your audience. My recommendation is SproutSocial. I have written a best review on SproutSocial. Check this review:
Sprout Social Reviews: Why Should You Use Sprout Social?
5. Utilize Paid Advertising
Paid advertising options like promoted posts or sponsored stories can help you reach a wider audience and drive more engagement. However, it's important to understand the advertising options available on each platform and to set a budget for your campaigns.
6. Measure Your Results
Use analytics tools to track your progress and measure the success of your social media marketing campaigns. This will help you to refine your strategy and make informed decisions about how to improve your results.
7. Stay Up-to-Date with the Latest Trends
Social media is constantly evolving, so it's important to stay up-to-date with the latest trends and new features. Follow industry leaders and keep an eye on new updates to make the most of your marketing efforts.
Conclusion
In conclusion, social media marketing is a powerful tool for building your brand and reaching new audiences. By defining your target audience, choosing the right platforms, developing a content strategy, engaging with your audience, utilizing paid advertising, measuring your results, and staying up-to-date with the latest trends, you can create a successful social media marketing plan that will help you reach your business goals.
Read Related Post:
Why You Should Use Semrush? 21 Questions and Answers
Free Full Blogging Course: Starting and Growing a Successful Blog
Best Step By Step Guide To Start a New Blog
Top 20 Secrets To Grow Your Blog with More Traffic
Thinkific Reviews: Is it the Best Online Course Platform?
Some recommended books for you on Social Media Marketing. Check this book out to find your answers:
Get 500 Social Media Marketing Tips on this book.